Here's your guide to the Ring – from design to reviews to bridal show calendar, everything has a new look. The new site will make planning your wedding about 1000% easier, faster, and more fun… TheWeddingRing.ca makes online wedding planning easy. We hope you love the new TheWeddingRing.ca as much as we do!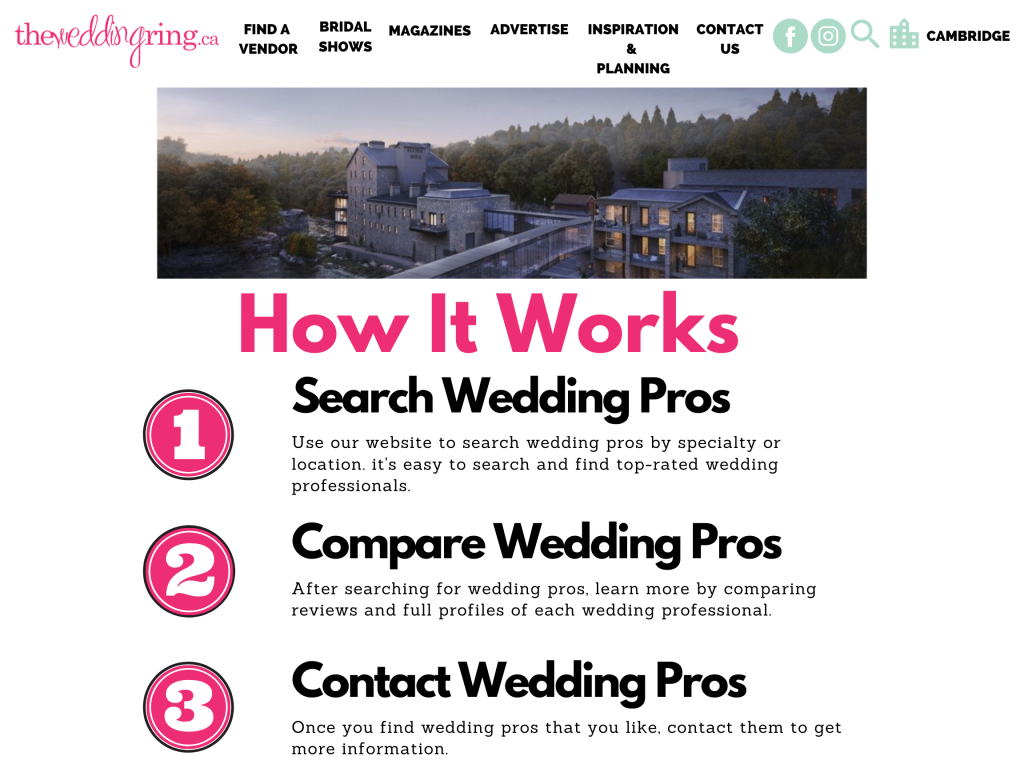 Now more than ever, TheWeddingRing.ca is your go to source for finding everything you need to know to plan your fabulous local wedding, especially if you've come to rely on the prices, packages, details, samples of work and references found in wedding professionals reviews. Even reviews have received a fancy face lift. They have more of what you need to know yet are now condensed to present the most information in the shortest read time. Photos have also been expanded for better views on what each wedding professional has to offer. Want to leave a review on your favourite pros? There's still space for that as well.
2. Inspiration & Planning: Your guide to the Ring
Need to start planning your wedding theme and design? DESIGN PALETTES & REAL WEDDINGS feature details and décor from rustic vintage to modern contemporary and more. EXPERT TIPS & FAVOURITE THINGS will help ease the stress of planning and check a few more items off your to do list. Need FASHION INSPIRATION instead? Use the GALLERIES which feature real gowns for real brides that you can find at local gown shops not just on fashion runways.
The search feature is pretty sweet. Search for a specific wedding pro's name, an event, or even a theme or category. Find anything you can possibly imagine needing for your fabulous local wedding.
The updated Bridal Show Calendar makes it easy to find the wedding planning event closest you. Even better, registration is just a click away. With a full listing of show times, details and Google maps to point the way, you'll never miss another event!
5. Geo Location: Your Guide to the Ring
Every inch of the website was improved to maximize user-friendliness – from your phone to your desktop, from Android to IOS. Where ever you are located, the website will produce geo-targeted resources. To look at information from another city apart from your location, just click on another city from the drop down.
Your Guide to the Ring: Can't find what you're looking for? Send us a message. We'll help!
[contact-form-7 404 "Not Found"]