Bride & Groom: Liz & Rob Badley
Photographer: Honey Photography (www.honeyphotos.ca)
Wedding Date: 21-Nov-2020
Original Guest #: 40
Original Budget: 10,000
What was your original plan?: "We were to be married in Cayo Santa Maria Cuba with 40 of our close friends and family."
Ceremony & Reception Location: Cambridge Butterfly Conservatory (www.cambridgebutterfly.com)
Colour Palette: Marine (navy) Blue and Amethyst
Tell us your story!: "We met about 10 years ago at a hockey rink. Our girls were best friends. But at that time we only knew each other from the hockey rink or dropping our daughters off at each other's houses. Fast forward 4 years and we ran into each other at Bentley's in Stratford while out for drinks with other friends. We chatted and took each other's numbers. Then a few days later started texting each other. We had so many funny adventures on our first few dates; from Rob just moving into a new home and not being able to find his silverware for weeks to trying to go to the drive-in when it was a heavy downpour of rain soaking us. Each date left us laughing and closer. We hit it off from day one, we complimented each other in so many ways. We had our first trip away a few months after we started to date to Cayo Santa Maria, Cuba, and just fell in love with each other more and more from there.
In the fall of 2017, we were engaged. Rob had spent months working with a jeweler at People's to have my ring custom made. It was probably the most stressful time in our relationship for him. I had returned from a trip to Nashville with my oldest daughter and was exhausted. We were delayed due to people picketing at the airport, so pushed my time getting home. That night we were to be at a friend's house for an event and ultimately were running late. Rob seemed to be acting weird and so nervous as it was our anniversary weekend. I had a gift for him in my luggage but didn't want him to see it so I kept sending him out of the room to find it but he was nervous. I thought it was odd. Finally, I gave him his present which was an engraved watch. He then asked me nervously and odd for him to close my eyes. I did then when I opened them there was this beautiful ring and he proposed.
We loved the idea of a wedding on 20, 2020, and thought it would be ideal to get married in Cuba as this was where we took our first trip together and knew we were meant to be together. We choose November 20, 2020, as this was an ideal time for our children in university and college to travel. Our family and friends questioned why we wanted to wait so long to get married. 20 2020 we thought would bring extra luck. lol The trip was booked and we had 40 family and friends set to travel with us.
Then due to Covid19, we were forced to make a tough decision and cancel our trip. For months leading up to this decision we watched the news closely and so did our guests. Our guests were constantly saying 'what are we going to do.' Many to our surprise said they would go regardless. But with a 14-day quarantine after the trip, it left us to decide on what to do next. Do we postpone it till 2021 and risk the same thing? At this point being engaged for 3 years we were excited and just wanted to get married to start the next chapter of our lives together as husband and wife. So we were scrambling going from 3 years of wedding planning down to 3 months to find a venue and start planning our wedding all over again. We joked we are team Badley and we got this! We wanted something unique and memorable for our wedding."
"We contacted the Cambridge Butterfly Conservatory and after our first meeting with Shannon, we fell in love with the venue space. We pushed our date to November 21, 2020, to give our guests traveling a distance to get there. We worked with both Shannon and Cayla and they made planning this wedding in such a short time seamless. From offering ideas on places for our guests to stay to decorations to food choices. We had so many challenges with constant changes coming down from government and public health that we felt like we had to keep scratching our wedding plans and starting over.
At times we were thinking it would just be easier to cancel everything and plan for 2021. But the thought of sending out invitations for the 3rd time and not wanting to frustrate our guests left us stressed. From October onwards, every Friday would come and we all waited for Doug Ford's newest announcement. Following each announcement, the staff at the Cambridge Butterfly Conservatory were always one step ahead of us. They called us after each change to venue rules and always had a new plan for us which made us want to push forward with wedding. The most stressful Friday was the one just before our wedding knowing potentially Cambridge area would go into the red zone which would leave us scrambling to cancel things in the 24 hours before the wedding.
The staff told us on our wedding day that they already had a backup plan if anything happened and were looking to see what they could do outdoors for us. We were blown away hearing this but as always they were two steps ahead of any changes. We can't say enough how grateful we were to them for all their help and just how truly amazing they were. Our guests raved about the ceremony, food, and the great lengths they went to to make it a safe enjoyable environment. Making our day truly one of the best days and memorable for all that attended." – L & R
Final Budget: $25,000
Cake: Elegant Cakes
Décor: "We did all the centrepieces ourselves and sent pictures to Cambridge Butterfly Conservatory who decorated for us."
Floral: Flowers & Florist (www.facebook.com/flowersandflorist387)
Bride's dress and accessories: Sophie's Gown Shoppe Kitchener (www.sophiesgownshoppe.com)
Groom + Groomsmen attire: Moores Clothing Kitchener (www.mooresclothing.com)
Bridesmaids attire and accessories: David's Bridal Kitchener (www.davidsbridal.ca)
Hair & Make-Up: Graces Hair & Kirsten Young Make Up Artistry (www.facebook.com/kirstenyoungmakeupartistry)
How did you find your photographer?: "We were members of a wedding Facebook group in Kitchener/Waterloo. A few photographers had posted on this group. We looked at each of their websites and loved Honey Photography's photos. Sarah was such a pleasure to work with. She did zoom meetings with us before the wedding to brainstorm on what we wanted for our wedding day photos. On the day of the wedding, Sarah had some great ideas for poses and locations for our photos. We were blown away at how well the pictures had turned out and the quick turn around time for getting our photos back." – L
Biggest Challenge: "We had so many challenges that I couldn't narrow it down to one. Also, so many things happened with these changes that I decided to write about them all. We faced many challenges due to Covid19. From canceling our trip to Cuba and all of our guests now only getting travel vouchers for future travel. Thankfully everyone was ok with this. We were going to reimburse anyone if they needed to avoid any financial hardship.
The weekly public health changes at the end of our planning were also a challenge. Two weeks out from the wedding we were told everyone now had to wear masks at the wedding. Which was fine, but left us scrambling to find masks to match our bridesmaid dresses. We searched Facebook and found the perfect mask to match our dresses. The Floral Masks were amazing to be able to make the masks with only a week's notice.
For the wedding reception due to the restrictions, we went from guests seating at tables of 10 in social bubbles to 8. Then the next week changes went from tables of social bubbles to households only to a max of 8 people. This created headaches as most of our guests were in households of 2. Our original room for the reception would not hold this many tables with social distancing."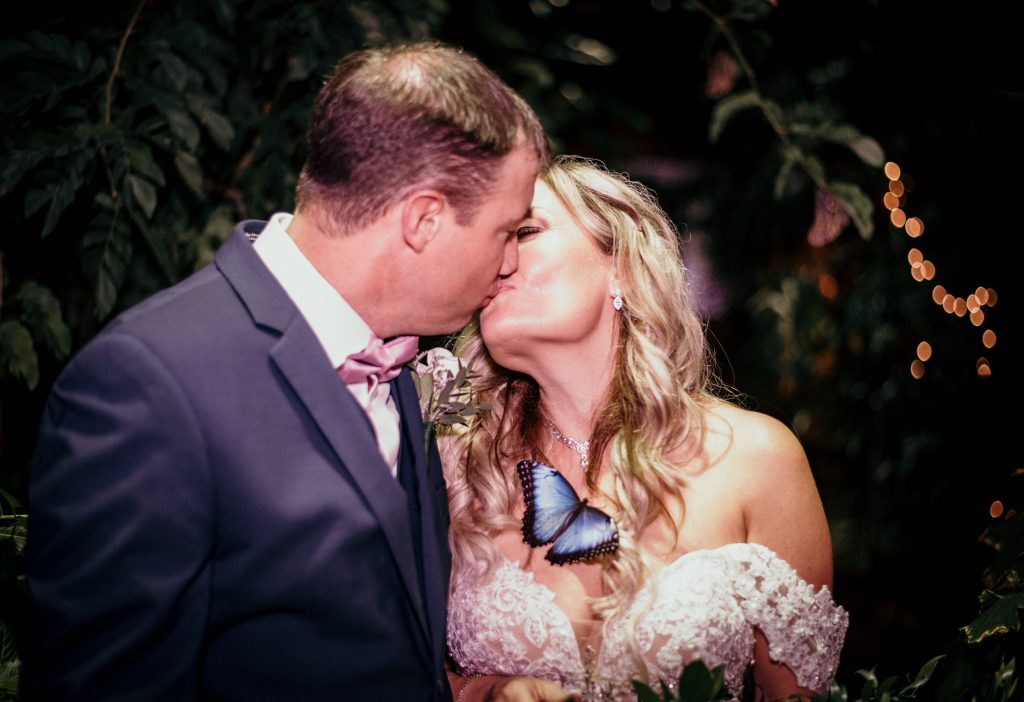 "We asked the Cambridge Butterfly Conservatory if they had a second room we could use in addition to the original room. They were very quick to accommodate us at no additional charges as well. They rented a second speaker so guests in both rooms could hear speeches etc.
The changing in table sizes also affected our table décor. We had spent months making our own rustic centrepieces. Two weeks out from the wedding, the changes to table sizes left us scrambling to come up with a new idea. We were able to find everything we needed on Amazon or Dollarama to make our new centrepieces.
The Cambridge Butterfly Conservatory heard the disappointment in our voices that were couldn't use our original centerpieces and came up with suggestions to use some of them on gift table etc. With the last changes in masks for the wedding, it meant that we couldn't have pictures taken with our wedding party inside. The Cambridge Butterfly Conservatory again was one step ahead of us on these changes, and made a wooden Hexagon frame outside and put lights in it. So pre-ceremony we were able to have pictures outdoors with our wedding party. They also allowed us to do pictures with us and our children inside safely by closing off the gallery to guests." – L
Best Memory: "The best memory of our wedding was at the end of our ceremony where we had a box of live butterflies that we released leaving our guests "oohing" and "ahhing" – L
Any advice for couples planning their wedding?: "The best advice I can give is to utilize all the wedding websites, Pinterest, Facebook available. Research and read reviews on each vendor or venue. This will help you make your wedding day seamless and memorable. Smile and enjoy your special day!" – L & R