EXPERT TIP BY LIZ KOTSAMANES DESIGNS (www.lizkotsamanesdesigns.ca) Cambridge, ON | Photo above: Chasing Moments Photography | Styling mats: Emily Paints Events
From guest list restrictions to meal service to dancing, COVID-19 continues to dramatically change the wedding landscape. Your wedding stationery can help you manage these restrictions while communicating these changes with your guests beautifully and stylishly. Liz from Liz Kotsamanes Designs gives us a few tips on how to use your stationery to its fullest….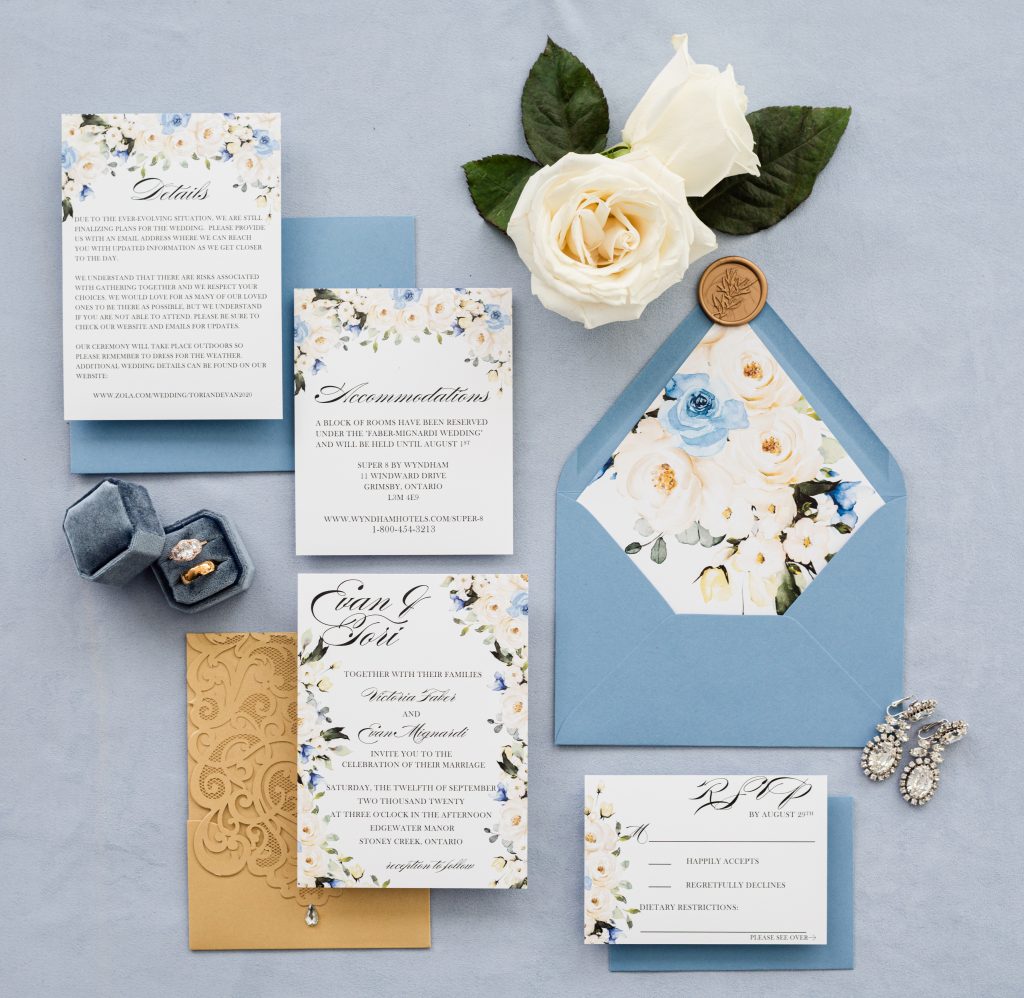 Save the Date cards are going to be very important for the next few years! In general, Save the Dates go out a year in advance. If you're planning a wedding that will take place before Fall of 2021, you may or may not want to send out Save the Dates. If you're committed to a wedding regardless of restrictions, send your Save the Dates. Be sure to include a method of updating your guests as the day approaches. If you're considering postponing depending on restrictions, skip the Save the Dates for now. For weddings after Fall 2021, once restrictions are removed, there will be a lot of celebrations happening, especially weddings that were deferred for
a year or two. Be sure to send a Save the Date card so that the people that you really want to be there will be able to come.
Pre-COVID sending your invitations 3 months prior to your wedding was usually sufficient. You may need to delay sending invitations if conditions are uncertain when approaching the big day, so 3 months prior may just not work for you in the current climate. Try to give your guests at least 2 months' notice if possible but be sure to include a wedding website address that they can check, and consider using an online reply system to avoid having to wait anxiously by the mailbox, or having to make many, many
phone calls.
Because things are constantly changing, it is an excellent idea to collect guest emails whenever possible. Email is a quick, and easy way to notify your guests of any changes without having to wait for the post office. One way you can do this is by including a spot on your RSVP cards, or adding a section on your wedding website to collect additional information if RSVP'ing online.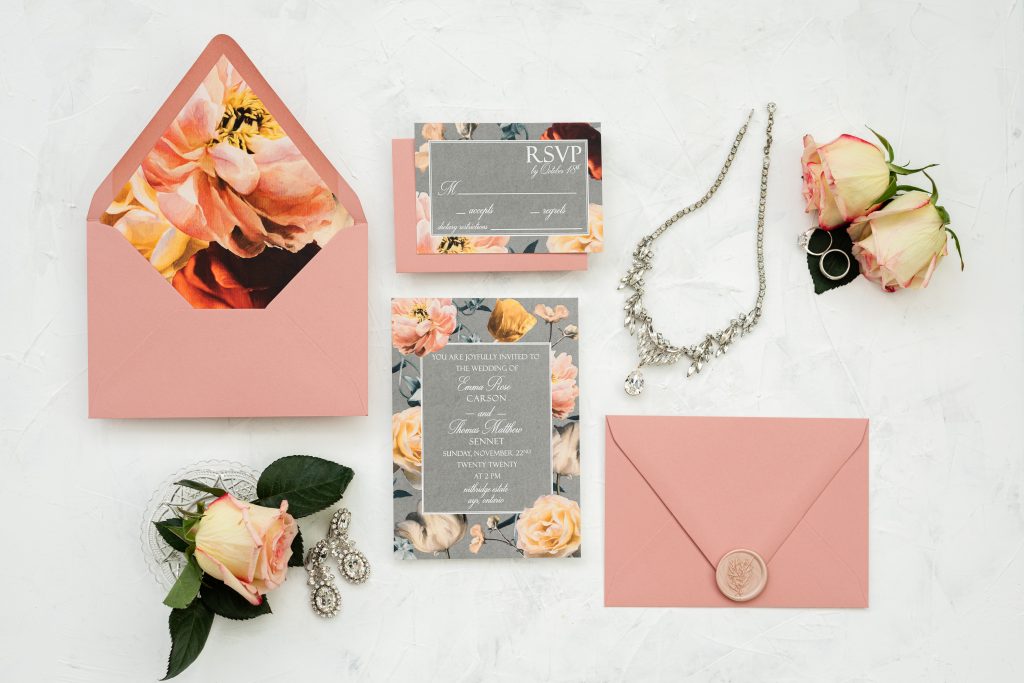 Creating a wedding website or wedding group on social media is more important than ever before. Guests can check back for any changes or new information prior to the wedding, and if you are in a pinch, you can always have your guests RSVP via the website, closer to the date of the event. When you don't have to wait for RSVPs in the mail, it can buy you as much as an extra 2-3 weeks of time you wouldn't otherwise have when waiting for a paper RSVP.
If there are still restrictions in place, you may need to use your invitations to help manage your guest list. You may need to have guest lists based on numbers: 100 guests, 50 guests, 25 guests, etc. You may have to invite fewer guests than you had hoped, but guests will understand the need to limit gathering numbers during this time and clear communication can help prevent anyone from being offended or upset.
One of the most common questions I hear is "How do I tell people that kids aren't invited, but in a nice way?" If you decide to not include children at a reception, be consistent in your message. You can set the tone and manage expectations by using the correct wording in your invitations. The number one way to let guests know who is invited is by being very specific in addressing the envelopes. If Mr. and Mrs. John Smith are invited, make sure that is clear on the envelope, by simply including only their names. Omitting the words 'and family', or the children's names specifically should be clear who is actually invited. Adding the words 'adults only reception' is another option.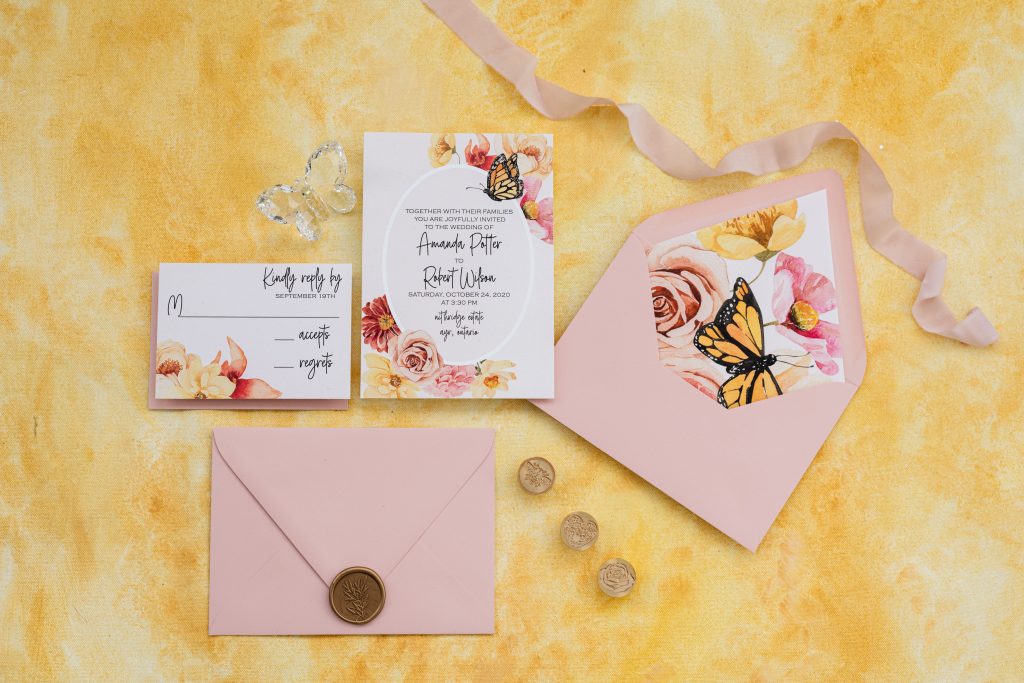 You can also use your reply cards to ensure that you have an accurate guest count that complies with restrictions as your day approaches. Including the words 'we have reserved x number of seats for you', then you or your stationer will fill in the blank with the appropriate number of guests, helps ensure there is no confusion on numbers. You can also choose to pre-fill in the names of your guests on the RSVP cards for them so that it is abundantly clear who is invited. These methods should also help ensure that you have an accurate guest count.
PRO-TIP: Sometimes guests forget to fill in their names when RSVPing—leaving you scratching your head and waiting for the rest of the cards to arrive to figure out who sent it. An easy way to avoid this problem is to either lightly number the back of the RSVP with a pencil, and match them to a corresponding guest list, or to get a black light pen and reader and put a secret number on the back. It can save you a lot of time and aggravation!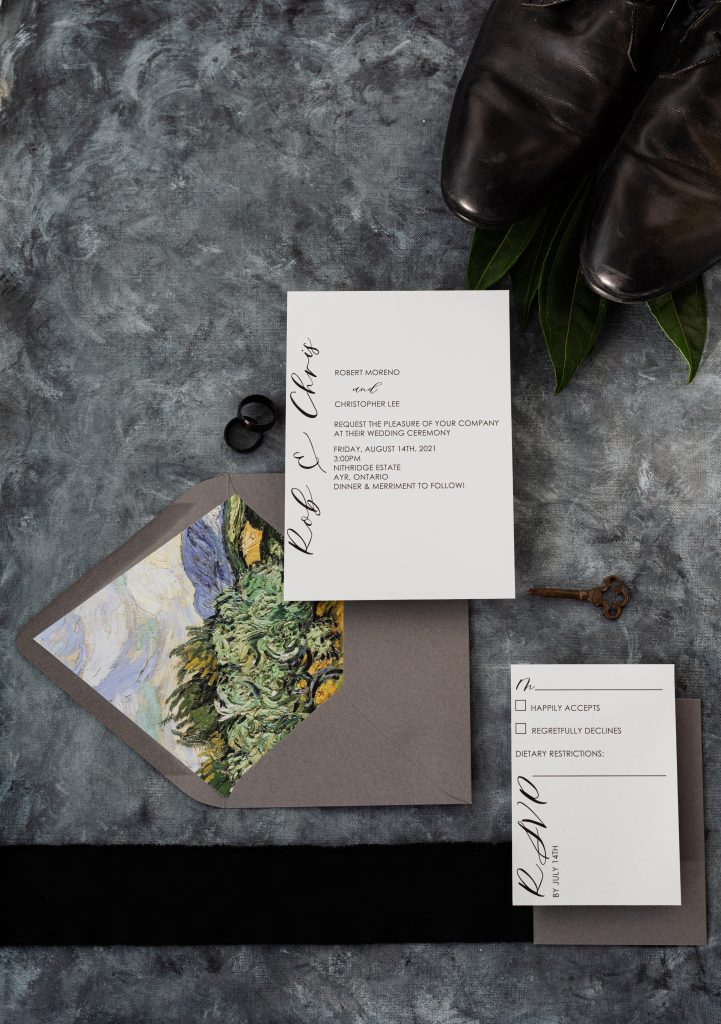 You can also use reception stationery to help ensure that guests conform to COVID guidelines. Menu cards and place settings can ensure people sit within their family bubbles. Table cards can communicate reminders such as to wear masks and sanitize. A little creativity can make an unfortunate necessity beautiful!
All the rules and restrictions don't mean that you have to sacrifice style and design. If you're looking for something truly unique, consider having a custom design made that really speaks to who you are as a couple. You can carry that design all throughout the wedding by incorporating the use of custom colours that match your décor, a custom logo, invitations, day-of stationery such as favour tags, custom wine labels, beautiful menus, and so much more!
Looking for a budget-friendly custom invitation option? Find a stationer with semi-custom invitations available. They are still beautiful, and of high quality, but already designed, and as such, they are much less costly than having a custom design created.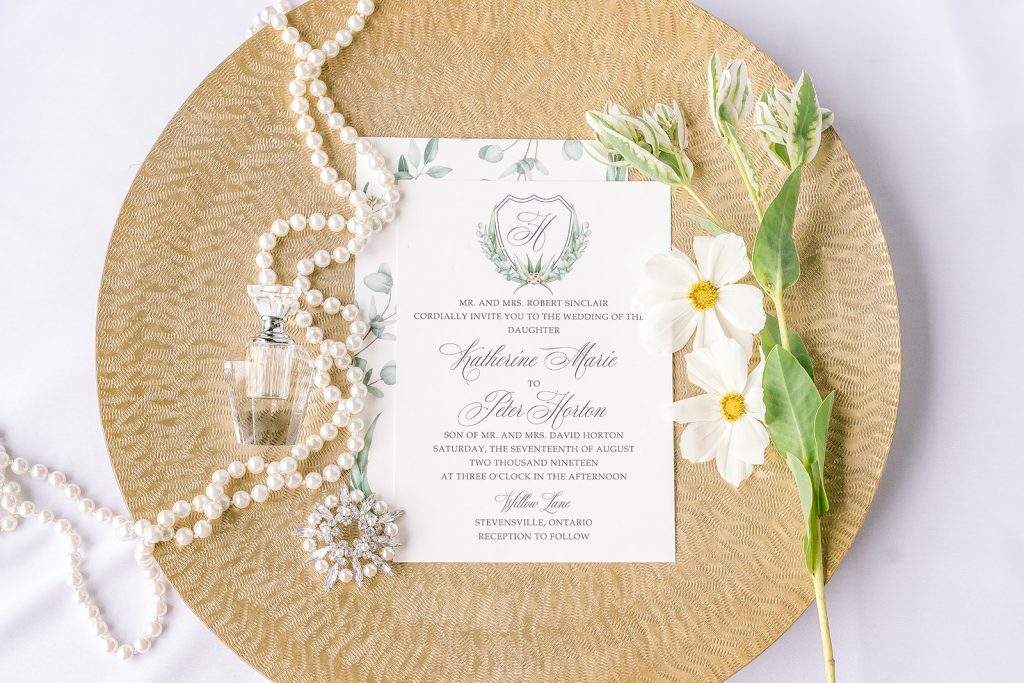 When to order your invitations—generally speaking, for a custom design, you should book your stationer right after you book your venue, or approximately one year prior to the wedding date. For a semi-custom design, booking 6-8 months prior should be plenty of time.
How to choose your stationer– Choosing the right stationer to execute your vision is important. Before deciding on who you will work with, pay close attention to their aesthetic- you wouldn't go to the Gap and expect to find formal wear, so going to a stationer who does fine-art stationery, expecting a custom illustration of yourselves as caricatures is probably not going to be the best fit. Not every stationer is a one-stop-shop for every style—be sure to work with a designer whose previous work you really love.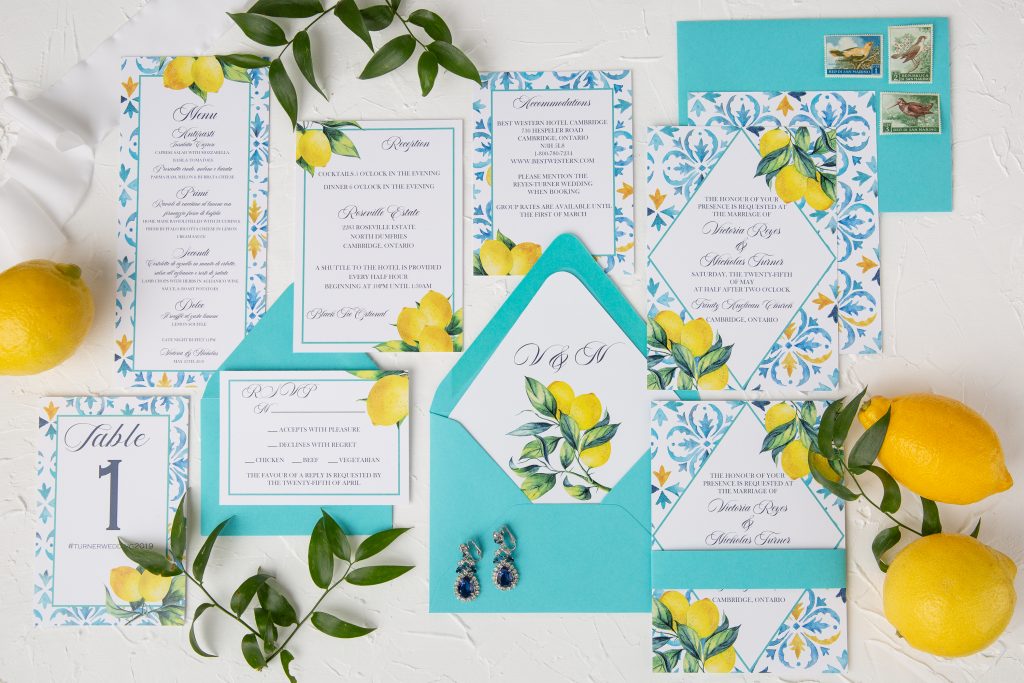 Featured in the January 2021: Covid Edition issue of The Wedding Ring Magazine
FIND OUT MORE ABOUT LIZ KOTSAMANES DESIGNS | To speak with Liz Kotsamanes Designs about your wedding options, you can reach them using the form below.
[contact-form-7 404 "Not Found"]